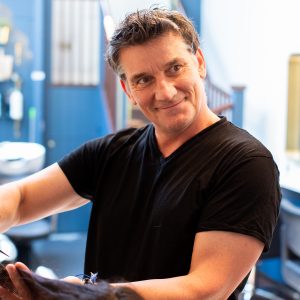 Head Director
Matt
Matt is a head director at Artizan and an expert in re-styles. He is a master cutter and fantastic at creating unique, individual looks. If you want creativity, Matt is your man! Matt is also part of the show styling team.
Matt Says: "My job still totally excites me. I love people and being sociable and every cut that I do is an opportunity to do something original and new."
Client Comment: "Love all the changes you are making to the salon, and the complimentary neck and shoulder massage is incredible!!" Jane.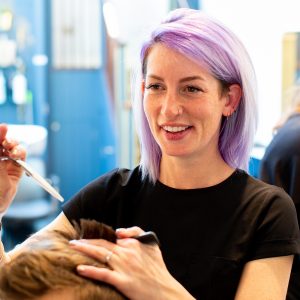 Director
Louise
Louise is enthusiastic and fun and has a fabulously unique personality. She loves her horses – quite a country girl at heart! She is one of our most experienced stylists and is excellent at all aspects of hairdressing. She is also one of our wedding hair specialists.
Louise Says: "I have a broad knowledge in cutting, colouring and hair-up. I love being creative and meeting new people, and I love that every day is different in this job. I'm inspired by Vogue magazine and catwalk and hair fashion."
Client Comment: "Thanks to Louise for a great haircut. She really listened to what I wanted and she delivered." Sandy.
Louise is self-employed and rents a chair at Artizan using her own liability insurance.
Director
Grace
Grace has worked at Artizan for many years. As well as being an expert colour technician, she is an extremely experienced hairdresser who can deliver anything from a natural, easy-to-manage look to something that little bit edgy and different.
Grace Says: "I feel so lucky to be doing a job that I am passionate about. Every day I get to make people feel better about themselves and I really enjoy dedicating my time to giving someone that boost. I love creating natural and lifestyle-led hairstyles but if you do fancy doing something really creative or different, I'm more than happy to take that journey with you."
Client Comment: "I was seen by Grace, who was an absolute delight – so nice to talk to. She gave perfectly honest advice and made sure I had the cut that was right for me." Stef.
Grace is self-employed and rents a chair at Artizan using her own liability insurance.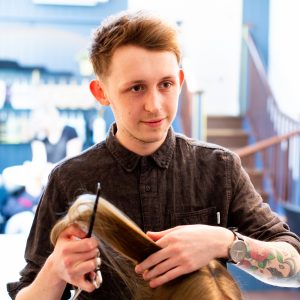 Head Stylist
Ben
Ben is a gem, a genuinely rare find. He is talented and his clients completely love him. This is demonstrated by a very loyal clientele. We are delighted to have him in our salon. He is the Aveda colour ambassador in our salon. He is passionate about teaching and sharing his skills. He is one of our academy trainers. Ben is well versed in colouring (including balayage and ombré), long natural styles, short hair styles, barbering and beards. An all-rounder!
BenSays: "I believe consultation is key to hair appointments as it ensures that I work with my guests to achieve the exact colour and cut that they have envisioned."
Client Comment: "Ben 'got' my very difficult hair almost immediately and he doesn't try to impose his ideas on me but is always there to advise. Ben also has a good eye for colour, knows what works for my hair and just makes every trip to the salon a lot of fun. For a high maintenance hairzilla like me, he's a joy." Gina.
Ben is self-employed and rents a chair at Artizan using his own liability insurance.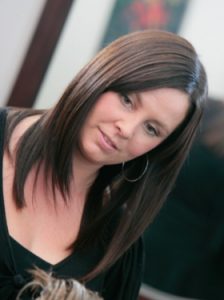 Head Stylist
Charlene
Charlene is a very experienced all-rounder and one of our longest-serving head stylists. She is an expert in all aspects of cutting, colour, and hair-up and is one of our wedding hair specialists.
Charlene Says: "It's great to work at Artizan. Every day I laugh and get inspired by the people around me. I have been with the salon since I was 15 as a Saturday girl, and I now feel part of a family."
Client Comment:"Thank you Charlene! A great new look!" Marie.
Head Stylist
Jodie
Jodie is a talented stylist. She is bright and enthusiastic. The fact that she has built her client base so quickly is a testimony to her ability. A real all-round hairstylist and also our extensions specialist.
Jodie Says: "I enjoy all aspects of my job from cutting to colouring. I put my heart and soul into everything I do. I love meeting new people and making them feel amazing! Following other stylists on social media inspires me as a hairdresser."
Client Comment: "Thank you Jodie, a great cut in a lovely salon." Helen.
Jodie is self-employed and rents a chair at Artizan using her own liability insurance.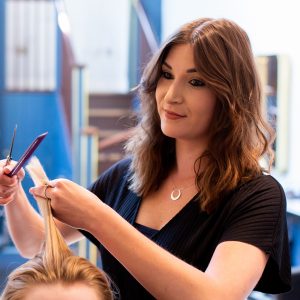 Head Stylist
Stevie
Stevie is a dedicated, positive and talented stylist. She is delightful and easy to get along with. She will listen to you, advise you and ensure that you get the best possible outcome from your visit. She is talented in all aspects of cutting and colour. We know you will enjoy your visit with her.
Stevie Says: "I am so happy to be working in such a great atmosphere. I really enjoy my job and I am dedicated to making my clients happy."
Client Comment: "This was my first visit with Stevie and I felt really relaxed and I am delighted with my new cut and colour." Michelle.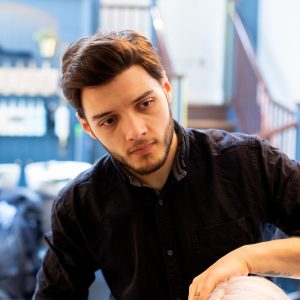 Senior Stylist
Pete
Pete is a very creative, thoughtful stylist who will work with you to achieve a style that suits your day-to-day needs. Or he will send you out swishing your gorgeous pink/purple/unicorn-coloured hair.
Pete Says: "I am so excited to be working at Artizan. Hairdressing is a truly creative career and I enjoy the opportunity to create something unique and personal for my clients."
Client Comment: "Pete is so professional and an exceptional hairdresser. I am so happy with the result. I would recommend to everyone." Christiana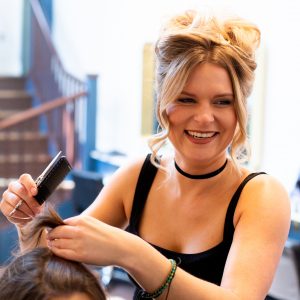 Senior Stylist
Sarah
Sarah is a thoroughly delightful person and she has many years of experience in hairdressing. She will work with you to achieve something that is right for you and your lifestyle. She is an excellent colourist.
Sarah Says: "I love working at Artizan. I have been hairdressing for my entire career and this is the most creative environment I have ever been in."
Client Comment: "Sarah is really kind and bubbly. She takes great care to make my hair look amazing, whilst making me feel relaxed and like I am having a lovely treat." Josie
Sarah is self-employed and rents a chair at Artizan using her own liability insurance.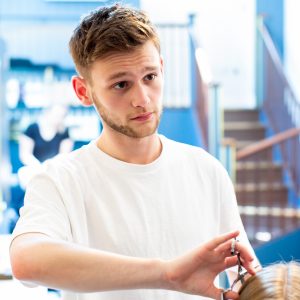 Stylist
Milo
Milo started with us as an apprentice and has now finished his training. He is more than ready to take his place among the other qualified stylists. He is hungry to be the best he can be and to keep learning. He is creative and loves coming up with new ideas for clients. This keeps him challenged and his clients happy.He has worked so hard and has done extremely well; as a result we are skipping him past the graduate stage straight to stylist.
Milo Says: "I love a challenge and always strive for perfection in everything I do."
Client Comment: "After looking for a hairdresser for 2 years in Bath who can cut curly hair I finally found Milo!! He is a professional, amazing personality and very attentive to every detail. Thanks Milo for my amazing cut and I have had lots of compliments … I will be back for colour soon." Isser.