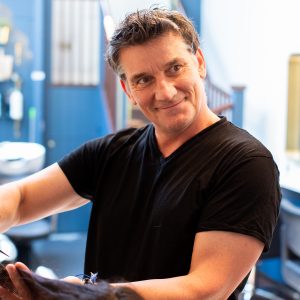 Head Director
Matt
Matt is a Head Director at Artizan and an expert in re-styles. He is a master cutter and fantastic at creating unique, individual looks. If you want creativity, Matt is your man! Our strapline are his words – 'A hairstyle isn't just about fashion.
It must suit your face shape, your lifestyle and, most of all, your personality.' Matt is also our perming expert.
Matt says: "My job still totally excites me. I love people and being sociable and every cut that I do is an opportunity to do something original and new."
Client comment: "Matt is fantastic, he really listens to what you would like and guides you to a hairstyle that truly reflects you. Along with tips on how to maintain the style at home, always something I find helpful. Can't wait for my next appointment." Jenny S.
Head Stylist
Charlene
Charlene is a very experienced all-rounder and one of our longest-serving head stylists. She is an expert in all aspects of cutting, colour, and hair-up and is one of our wedding hair specialists. Charlene loves doing a full head of foils and she's really brilliant at it.
Charlene says: "It's great to work at Artizan. Every day I laugh and get inspired by the people around me. I have been with the salon since I was 15 as a Saturday girl, and I now feel part of a family."
Client comment: "Thank you Charlene! A great new look!" Marie.
Stylist
Tash
Tash is our rising star. She is friendly, hard-working, kind and diligent and everyone at team Artizan adores her. She's adventurous with colour and from day one has been a natural talent. Tash qualified in March 2022 with NVQ level 3 and additional six months on the floor in our Academy cutting scheme. She now has some great experience on top of her three years apprenticeship.
Tash says: "I love hairdressing it is my true passion and I'm really happy to be working at Artizan."
Client comment: "Natasha was amazing, not only did she manage to see me at short notice, the colour and blow dry were amazing. Thank you. I was very pleased and I will definitely return." Faye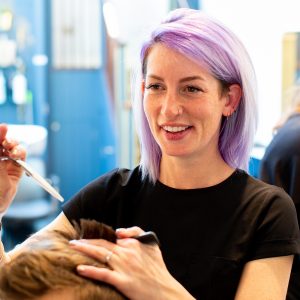 Director
Louise
Louise is enthusiastic and fun and has a fabulously unique personality. She loves her horses – quite a country girl at heart! She is one of our most experienced stylists and is excellent at all aspects of hairdressing. She is also one of our wedding hair specialists.
Louise says: "I have a broad knowledge in cutting, colouring and hair-up. I love being creative and meeting new people, and I love that every day is different in this job. I'm inspired by Vogue magazine and catwalk and hair fashion."
Client comment: "Thanks to Louise for a great haircut. She really listened to what I wanted and she delivered." Sandy.
Louise is self-employed and rents a chair at Artizan using her own liability insurance.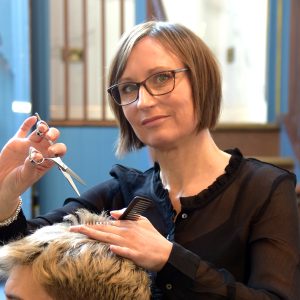 Director
Liz Poole
We are delighted to have Liz on board! She has worked in Bath for many years and is a highly experienced Stylist who has been using Aveda colour for over 20 years. Liz is a technical cutter who is excellent with all hair types and great for a re-style. She enjoys shaping, layering and creating something bespoke to you. She is also fantastic with curly hair and perms hair too. She enjoys creating bespoke colours and loves the way that Aveda gives her the ability to do this.
Liz says: "I believe that hair should be fun and I enjoy learning new techniques and styles. I love working with such a creative and talented team."
Client comment: "Liz has been doing my hair for several years. She always listens to what I want, style-wise, and is a very sociable person." – Jenny
Liz is self-employed and rents a chair at Artizan using her own liability insurance.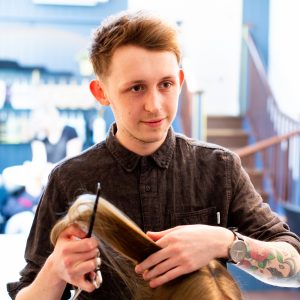 Director
Ben
Ben is a gem, a genuinely rare find. He is talented and his clients completely love him which is demonstrated by their loyalty. We are delighted to have him in our salon. Ben completed his colour degree with Aveda to become an Aveda Pure Colour Master! This is a RARE and hard qualification to achieve so the entire salon benefits from Ben having this knowledge as he is passionate about teaching and sharing these skills. As you would expect, Ben is an expert in colouring (including balayage and ombré), long natural styles, short hair styles, barbering and beards. An all-rounder!
Ben says: "I believe consultation is key to hair appointments as it ensures that I work with my guests to achieve the exact colour and cut that they have envisioned."
Client comment: "Ben 'got' my very difficult hair almost immediately and he doesn't try to impose his ideas on me but is always there to advise. Ben also has a good eye for colour, knows what works for my hair and just makes every trip to the salon a lot of fun. For a high maintenance hairzilla like me, he's a joy." Gina.
Ben is self-employed and rents a chair at Artizan using his own liability insurance.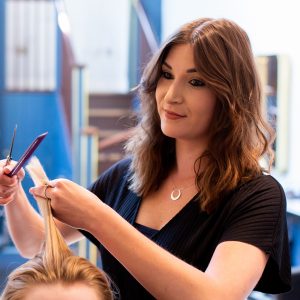 Head Stylist
Stevie
Stevie is a dedicated, positive and talented stylist. She is delightful and easy to get along with. She will listen to you, advise you and ensure that you get the best possible outcome from your visit. She is talented in all aspects of cutting and colour. If you're looking for a personalised touch, or something a bit different, Stevie is very creative. We know you will enjoy your visit with her.
Stevie says: "I am so happy to be working in such a great atmosphere. I really enjoy my job and I am dedicated to making my clients happy."
Client comment: "This was my first visit with Stevie and I felt really relaxed and I am delighted with my new cut and colour." Michelle.
Stevie is self-employed and rents a chair at Artizan using her own liability insurance.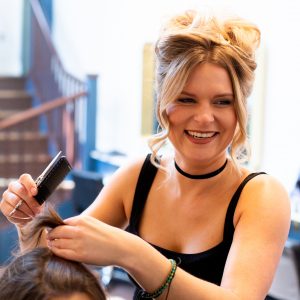 Head Stylist
Sarah
Sarah is a thoroughly delightful and kind person. She has many years of experience in hairdressing in cutting and colouring. She will work with you to achieve something right for you and your lifestyle. She is an excellent colourist and creates the most natural-looking foil services and beautiful beach Balayage. Sarah is also our extensions specialist.
Sarah says: "I love working at Artizan. I have been hairdressing for my entire career but this is the most creative environment I have ever been in."
Client comment: "Over the moon with my balayage and cut from Sarah. She knew exactly what I wanted/needed and offered some great advice too! It was my first visit to the salon and I will definitely be returning!" Nao
Sarah is self-employed and rents a chair at Artizan using her own liability insurance.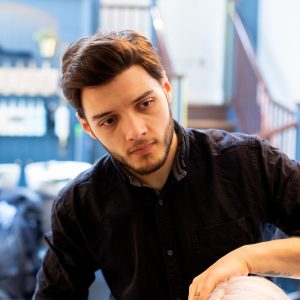 Head Stylist
Pete
Pete is a creative and artistic stylist with over 14 years of hairdressing experience, he's honest, hardworking and great fun. He loves to build relationships with clients and believes in consultation and planning to achieve the perfect haircut and colour.
Pete loves all cuts and colours from soft, natural, liveable styles to extreme transformations. He especially loves curly hair, funky cuts, vibrant colours, balayage and all the latest trends like wolfcuts and moon -bangs!
Pete says: "I love the creative journey you go on with a client, finding their style, making changes, exploring cuts and colours and genuinely building a friendship over time.
The job is always different and styles are always changing so keeping up to date on trends in my spare time keeps me ready for anything. It's an exciting and artistic profession which has become a part of me after so many years."
Client comment: "Pete is the best hairdresser I've ever had, he always does an absolutely amazing job!
It's a genuine pleasure going to see him and hanging out, thanks, Pete! X"
Pete is self-employed and rents a chair at Artizan using his own liability insurance.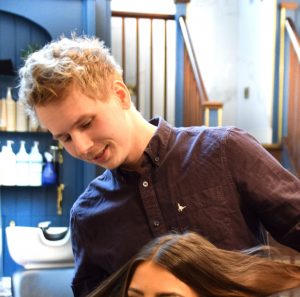 Senior Stylist
Jack
Jack has been hairdressing with Aveda, for over 10 years, giving him a wealth of knowledge of the industry and Aveda colours. He looks to elevate pre-existing styles with tailored colours. Cutting gives him huge satisfaction and he enjoys both ladies and gents cuts.
Jack says: "I fell in love with the beauty of hair, the sculpting and creating of shapes then complimenting that with the perfect colour.
I also feel that everyone should enjoy there haircut experience and will do my upmost to raise the enjoyment factor."
Client comment: "It was my first visit to this salon and I love, love, love my new hair cut. Massive thank you to Jack who took so much care over cutting my hair. I will definitely be back."
Jack is self-employed and rents a chair at Artizan using his own liability insurance.